Beginning with the 2013 school year, Sheriff Chris Clinton implemented the CHAMPS program to replace the DARE program at Towns County Elementary School.

While the DARE program was successful, the sheriff felt the drug education program should be adjusted to more closely address the drug education needs of today's children.

CHAMPS is an acronym for Choosing Healthy Activities and Methods Promoting Safety. The CHAMPS program was founded in 2003 by the Georgia Sheriffs' Association to address the dangers students face today that older generations could not have imagined. The mission of the CHAMPS program is, "To provide an educational program for Georgia's youth, which provides guidance, and the skills, ability, and knowledge to be safe, healthy, and happy in preparation for a successful life" (Georgia Sheriffs' Association). Below are some of the classes taught through the CHAMPS program:
Drug resistance - Alcohol Resistance - Peer pressure

Choices and consequences - Leaders and followers - Bullying

internet safety - Gun safety - Hunting safety - ATV safety
| | |
| --- | --- |
| Get tips for driving in snow and ice. | Get Safe Driving Tips for Teens |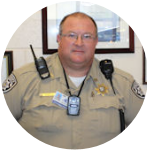 Donnie Jarrard
Middle School/High School SRO - CHAMPS Instructor
706.896.4131 EXT:1237

Corporal Jarrard is a 25 year veteran in law enforcement. He retired as Captain of the Uniform Patrol Division of the Hall County Sheriff's Office in 2011. During his time there he served as Detention Center Officer, Patrol officer, Lake and Grid Officer, Domestic Violence Unit Officer, Investigator with the Criminal Investigations Division, Corporal in patrol, Corporal and Sergeant in the Specialized Traffic Enforcement Unit, Sergeant on the Motorcycle Unit, Assistant Commander of the Uniform Patrol Division and Captain over the Uniform Patrol Division. He was also a member of the Hall County Honor Guard and a member of the Hall County Red Dog Unit. As captain he also commanded the Hall County Underwater Search and Recovery Team.
After retiring from the Hall County Sheriff's Office, he was given a job by Sheriff Chris Clinton of the Towns County Sheriff's Office and currently has the privilege of serving as School Resource Officer in the Towns County Middle School and High School. He enjoys working with our youth and trying to encourage each of them as they move forward toward graduation.
Corporal Jarrard is also the pastor of Enotah Baptist Church in Towns County.


---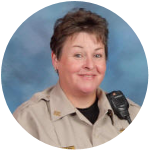 Sally Tanner
Towns County Elementary School SRO
706.896.4131 EXT:2231

Sally came to the Towns County area in 1996. Sally joined the union county sheriffs office in 2003 as a detention officer and in 2004 she became a Deputy sheriff in Union County. Her first 4 years were spent on patrol. The last 10 years were spent as a school resource officer in Union County. In 2017 she began her service with the Towns County sheriffs office. Where she worked patrol for one year and was Selected to be the second school resource officer for towns County school system.